Stainless Steel Corrugated Hoses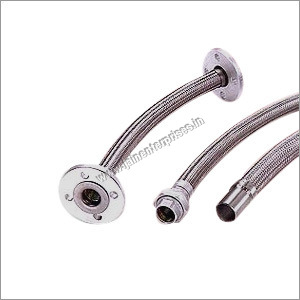 Stainless Steel Corrugated Hoses
Product Description
Stainless Steel Corrugated Hoses

To meet the variegated demands of clients, we have been able to manufacture and export comprehensive range of Stainless Steel Corrugated Hoses. These hoses are available in different sizes, grades, lengths and thicknesses that clients can avail as per their needs. Our range of hoses is known for easy installation, corrosion resistance and long lasting nature. These hoses are ideal for food & beverage, nuclear plants, air conditioning plants and oil refineries sectors. High grade stainless steel is used that is obtained from authentic vendors in the manufacturing process of Stainless Steel Corrugated Hoses.

Other information:

The stainless steel flexible hoses are avilable in stainless steel grades (AISI) 321, 316L, and 304 by forming consolution so that it may conveniently bend while remaining liquid and gas tight. The hoses of specific length as per requirement can be manufactured with the end fittings in flanged/threaded types. The flexible hose are available in bradings of stainless steel wire to take care of external damage and to increase pressure ratings.
Construction corrguated metal hose made with close pitch angular corrugation from butt-welded tube can be reinforced by one or two metalic wire braids (SS 304 and SS 316).
Temperature Range
269 C to 800 C nominal bores 6 m.m. To 300 mm.
Application
PSS hoses are used where ever other conventional rubber or PTFE flexible hose can not be used, eg. High temperature hydraulic oils, steam, chemicals, corrosive liquids, gases, compressed air and pneumatic liner, cryogenic application, food and beverage, nuclear plants, chemical corrosive liquids, fluids associated with high temperature and of high pressure in paper plants, tyre moulds, air conditioning plants, textile machinery steam-conveying lines, power houses, oil refineries and toxic application etc.,
Fittings
End fittings are made of carbon steel/stainless steel/copper/brass. Fittings are manufactured to DIN/IS/SAE/BS/ANSI standards and to customers requirements like females, floating/fixed etc.
The hose assemblies are TIG welded or silver brazed.